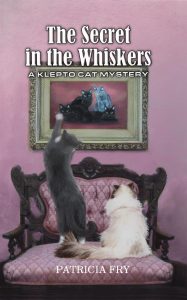 It's true! You can now order Book 42 of the Klepto Cat Mystery series, The Secret in the Whiskers for your favorite e-reader from amazon.com.
The print version of this book has been available for a few weeks—keeping people company during our stay-at-home mandate. For those who prefer reading on their e-reader, you can now upload this story.
Description: Rags never tires of offering a helping hand. In this gripping story, Rags is summoned to find a victim, who's also a witness to a serious crime; he's asked to locate a trio of missing cyclists; he stumbles across a lost child; and he still manages to keep an inheritance from landing in the wrong hands. This crafty cat has never been so bold and creative while righting the wrongs he encounters.
More news for Klepto Cat fans: Book 43 will go to the editor today—it looks like you could be reading this exciting story around Mother's Day. Something else to look forward to.