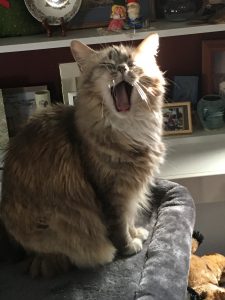 For those of you who missed it, I ran a surprise contest over the weekend. I always welcome feedback, ideas, critique, and compliments for my work. However, occasionally I also need help coming up with an interesting plot, and most especially with a title.
As you notice, I use a cat-related term in all 42 of my Klepto Cat Mysteries. The titles all include "cat," or something related to the cat, "purr," "meow," "fur," "paw," etc., or a made up word using one of these words, "catnapped," "pawtners," "purrfect." How many more can I come up with? I sometimes wonder if I've exhausted all of the possibilities, then a new idea clicks with me and off we go with, yet, another colloquial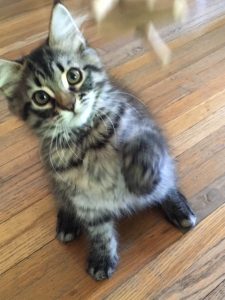 title.
The title Lily and I chose from those offered this weekend by fans and other creative people is…drum roll, please…is "PAWsitively Hair-raising," which I would change to "Positively Fur-raising." And the creator is Elise DePuydt. I will be using this title in the near future. A close second is "Felonious Feline," Marilou Overson's pick. I've decided to send her a copy of a Klepto Cat Mystery as well. Thank you everyone who chimed in.
As a gift to all of you, here's something to make you laugh. I think we can all use a little laughter these days. It's a collection of cats who got themselves into unforgiving situations.