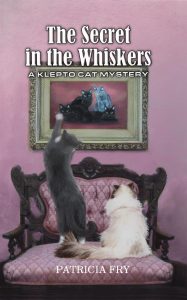 Book 42—the print version—is ready for you to order at Amazon.com. And who doesn't need a good read now that we're all cozied down at home.
The Secret in the Whiskers follows Rags through some harrowing and fascinating scenarios. In fact, in this story, Rags never seems to tire of offering a helping paw.
He's summoned to find a victim, who's also a witness to a serious crime; he's asked to locate a trio of missing cyclists; he stumbles across a lost child; and he still manages to keep an inheritance from landing in the wrong hands. This crafty cat has never been so bold and creative while righting the wrongs he encounters.
If you love the cover art as much as I do, thank Bernadette Kazmarski.
The Kindle version will be ready soon.