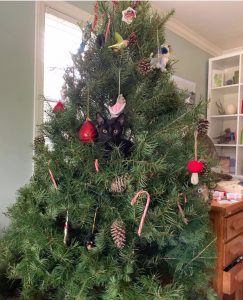 As you may know this is an award-winning blog. Occasionally I'll enter some of my posts in the Cat Writers Association contest. I'm thinking about doing it again this year. Maybe you can help me decide which posts to enter—posts that would be a good representation of the nature of my blog—a post that particularly interested you, entertained you, or taught you something.
Maybe you prefer some topics or styles over others—do you like the photos, stories about cats, informative pieces, pure entertainment, humor…? Which of my posts do you think are award-worthy? Which ones are memorable?
This photo came to me last night–a delightful way to end a lovely Christmas day–seeing a cat perching in the tree. It only makes sense. Some cats do like to be the center of attention.