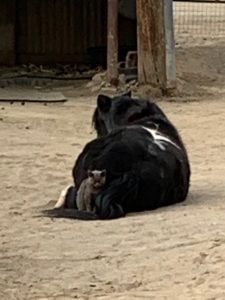 Some of the most charming photos and videos online feature cats or kittens and their best friend, who may be a dog or a horse or a pig or a goat. I saw one cat who'd developed a friendship with a dolphin. Cats have been known to buddy-up with ducks, cows, even rodents. I've seen kittens riding around on the shell of a tortoise, snuggling with large dogs, sitting atop a horse. I love the recent video that's going around with the deer licking the cat. And I think everyone remembers the gorilla Koko and her kittens. She displayed such love and tenderness.
There's even the cat in Russia (I think it was) who is credited with saving an abandoned baby during one freezing night when she curled up in the basket to keep her warm. In reality, the cat probably had in mind keeping herself warm. Cats may appear to be sweet and caring, but they're also opportunists, which is how they've learned to survive even in dire circumstances.
Sure I believe that cats and kittens are capable of deep friendships, but, like the kitten in this picture, they also know how to take advantage of a warming opportunity. My oldest daughter took this picture when she went out one chilly early morning to take care of her horses.