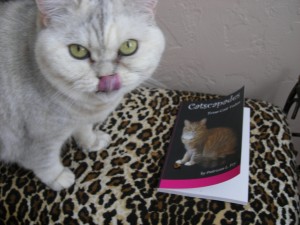 Truly, this is something I'm often accused of. "Oh, you write those cute little books for children." "You're a children's book author." No I'm not. And those of you who read the Klepto Cat Mysteries know that I don't write for children. What is it that gives people the idea that my books are designed for children? The whimsical covers? The cutesy titles? The fact that the stories are obviously frivolous and fun?
I often explain to people that my Klepto Cat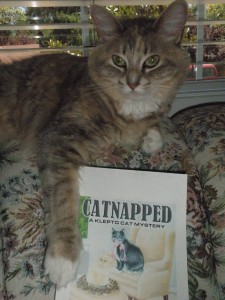 Mystery stories are written for adults who enjoy light reading with cats and an interesting mystery plot. Rags's fans like that the cats in my books do not talk, except for an occasional cranky or friendly Meow. And fans appreciate that they have the opportunity to learn through this series and have their thought processes stimulated.
Some readers say they feel as though they know some of my characters and would love to have some of them as real-life friends. They appreciate that the main characters are so nice to each other—kind…and that they display decent and honorable values.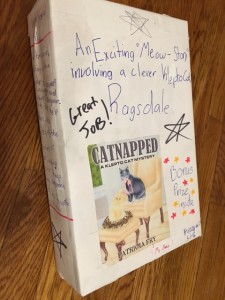 Still often people will buy a book from me to give to a child. I always suggest that the parent, teacher, relative always read the book first and decide if it's appropriate for that child. Why? Because I do not write these books for children. I write them with adults in mind. Sure there are beautiful examples of messages in the books reminding us to hold true to our values. There are humorous and sometimes silly incidents and lots of kitty-cat (and sometimes horse) action. And some kids might adore reading some of these books or certain passages from them, but still, I write for adults.
Have any of you read a Klepto Cat Mystery to a child or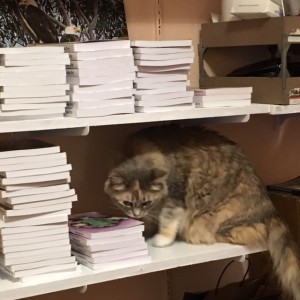 know a child who has read one? What age? How was the story received? Would you feel comfortable giving one of these books to a child you know?
One little girl I know created a book report from Book One: Catnapped. I believe she was ten years old at the time and she did a good job, too. Actually, I've toned down my books some since the first few. When a reviewer said my books were cozy mysteries on steroids, I thought maybe I was being a little too graphic and making my villains a bit too crass. Have you noticed the difference over the years?
By the way, the print version of Book 39 will be available for purchase this week. Watch for the announcement here and at my Klepto Cat Mystery facebook page.