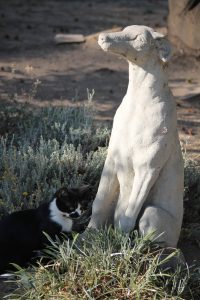 I got this shot of Annie-kitten (from next door) with a life-size replica of a dog. Annie didn't seem to know at first that it was actually made of cement.
I recall once wearing a t-shirt with a large screen-print cat face on it. I'd been wearing it all day, when suddenly Katy (our Himalayan) made eye contact with the cat on my shirt. I was stunned, but not as much as she was when she seemed to realize the Mama had a big cat sitting on her. She moved forward slowly as if she was stalking the intruder. Within a few moments she broke contact and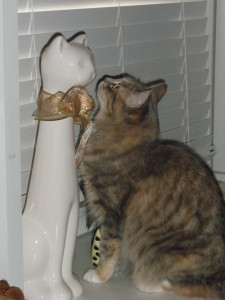 went on about her business. But that was a weird moment for me and probably for Katy.
Just yesterday I saw Lily do a double-take at a calendar here in my office. It has two kittens sitting in large lace-up boots. Very cute. Well, it appeared that for a split second Lily thought two kittens were coming through the wall.
I'll never forget the moment depicted here where Lily introduced herself to the ceramic cat-shaped toilet bowl brush holder. Her stance appears to be confrontational. But I can tell you the ceramic cat still lives in my bathroom.