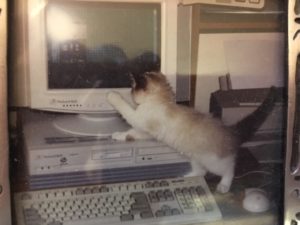 Can you believe it? I've finished the first draft of Book 38. Spoiler Alert: Book 38 is this year's Christmas story. In the seven years that I've been writing the Klepto Cat Mysteries, I've produced two Christmas stories. And are they ever popular! This will be number three.
This book is with beta readers as we speak. Look for it on Amazon sometimes in October. Yes, it still has to go through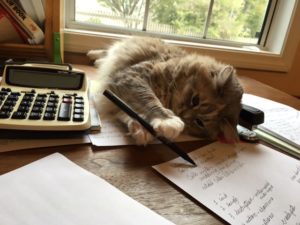 another few rounds of editing before I hand it off to the editor. Then I do more editing. Next we go through the formatting process for the print book and the ebook.
In the meantime, Bernadette Kazmarski is working on the cover. Presently we're trying to decide whether to show the inside of the cozy cabin, where Rags and his family are staying in this story, or the outside of it with Rags frolicking in the snow. Decisions! Decisions!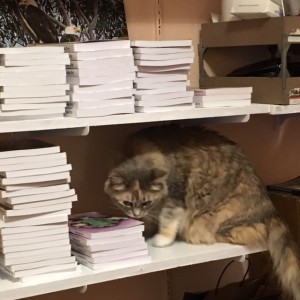 I get pleas from Rags's fans to hurry and finish the next book. "I can't wait for the next one," they say. "When will the next book be out?" Well, typically, over the six and a half years, I've produced 6 books per year. This year we'll top that—not that I'm trying to break any records. No. My goals is simply to keep doing what I love doing, which is to write these stories for you, and to bring you a new book as often as possible. Turns out this year the possibility is seven (or maybe eight) books.
Another spoiler alert: I started Book 39 yesterday—a very interesting and different theme for Rags and his human and animal friends. Yes, I'm able to work on two books simultaneously. Someone asked me the other day how I do that and I suppose it's from my training as an article-writer. I often had more than one or two articles going at various stages on very different topics for very different publications.
So this is my update. I hope you are all enjoying Book 37, Cats and Caboodle as part of your summer reading.