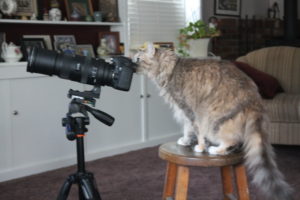 Last week I posted a close up of Lily on my facebook page and people seemed to love it. She is a pretty girl. But she and Sophie aren't always easy to photograph. Some of my favorite pictures of my cats and other cats involve a prop. It doesn't take much—an unusual basket, an ornate chair, the piano, a vase of flowers, cat motif pieces, a window, another cat…
I've taken pictures of our cats exploring the dishwasher and refrigerator, getting to know
various ceramic cats and cats created from other materials. Check out this blanket of cats as a backdrop for Sophie.
Bring in a box and your cats will react. In fact bring in anything different to the room and get your camera ready. The curiosity of a cat is definitely to a photographer's advantage. Sometimes you can predict what
a cat will do, thus set up a photo op. Does your cat go crazy for running water, for example? Maybe she has a tortoise friend she greets every morning or she typically crawls into the cat food cabinet and poses with a bag of kibbles as a reminder to feed her. Don't let another day go by without documenting some of these interesting shots. Your cat may end up going viral on the Internet or you'll simply have a cute photo to show off to friends and relatives. A photo similar to this one showing Lily with the alphabet blocks won a spot on Workman's Cat-a-Day Calendar one year.