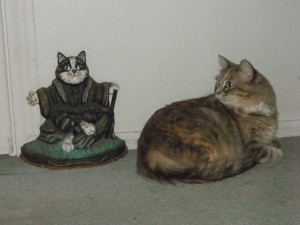 You may recall my excitement when Lily was chosen to grace a page on the Cat-A-Day calendar by Workman Publishing in 2011. She was a kitten then—playing in a scattering of alphabet blocks.
Well, I got notification that she'll have her own page in March of 2020. Here's the photo they chose.
I've sent more flattering shots of Lily and Sophie for the calendar. I've submitted pictures I thought were more meaningful, but you never know what they need, what messages they want to put across, or what your competition is. So I'm pleased just the same to participate in the calendar I've been enjoying for so many years.
Order your Cat-A Day calendar by Workman and enjoy a different cat every day of the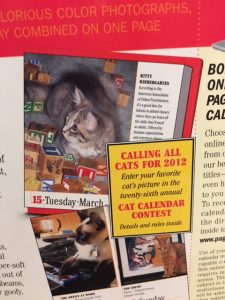 week along with words of wisdom about cats and interesting quotes. https://www.workman.com/products/365-cats-page-a-day-calendar-2020
It's always fun and exciting for me to be chosen to participate in this calendar, but it was a real thrill when Lily's photo was published in the 2011 365 Cats Cat-A-Day Calendar as Lily's picture was also used on the back of the box showing only 3 of the pages inside. That's her on the top—the March 15 cat. Cool, huh?
Spoiler alert—Lily will be featured in March again next year.
Note: I guess they figure this is Lily's good side–notice how she's posed similarly in both shots.