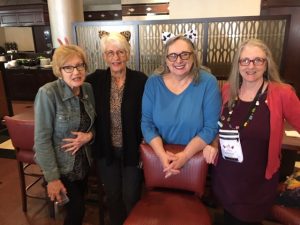 I'm still winding down from my great weekend at the 25th Cat Writers Association Conference in St. Louis. I've been a member of Cat Writers now for nine years (I was a kitten in 2010). And I've attended most of the annual conferences as a speaker and participant in New York, Texas, Los Angeles, Arizona, and this year in Missouri. What a fun event with great people and cats. Yes, some attendees bring their therapy cats. This year Arden Moore's cat, Casey, joined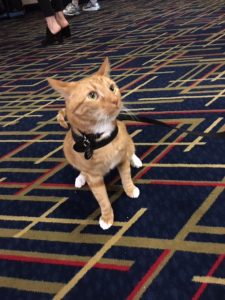 us. This orange tabby is a pet safety cat as well as a therapy cat. And boy is he well-behaved. He did speak out during workshops every once in a while, however, giving his opinion of the topic, no doubt.
I can't imagine taking Lily or Sophie to a conference. The car ride would do them in, let alone a plane ride, and a stay at a busy hotel.
Casey and Chanal, a black-and-white therapy cat, rode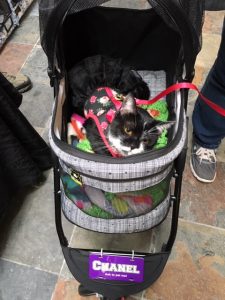 around in pet strollers throughout the conference. Summer, a Somali therapy cat was carried from place to place in the arms of her purrson, Janiss Garza or led on her leash. All were purrfectly well-behaved. Casey and Chanal even dressed for the special occasions. Chanal looked chic in her array of dresses and Casey was dapper in his bow tie as he helped MC the awards banquet.
As if that wasn't enough kitty-cat action, many of the human attendees wore their favorite feline clothing, jewelry, shoes, and even cat ears. And the decorations followed suit. See the cat face in the flower arrangement?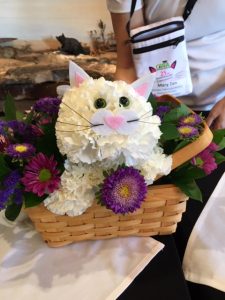 So what do you do at a cat writers conference? We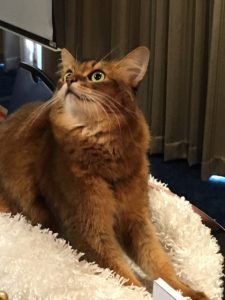 renew friendships that have developed at past conferences and throughout the year online as we work on cat-related projects together. We network with other cat writers, authors, artists, veterinarians, animal behaviorists, representatives from cat-related companies, and others; and we attend workshops to help us hone our craft, and learn more about cat products, new concepts and remedies, cat photography, promoting our work and so forth.
Authors participated in a huge book signing where proceeds and donated items went to the MO Humane Society. We raised over $4,000 worth of cash and items that evening and most of us sold books. I met several potential new fans of the Klepto Cat Mysteries. That's always a thrill for me.
The grand finale was the awards banquet where thousands of dollars in money and prizes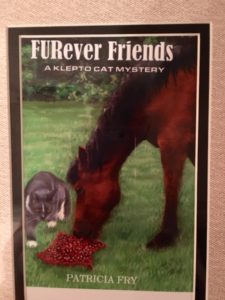 was doled out to deserving authors, writers, artists, bloggers, columnists, videographers, and photographers. What an exciting night. What great incentive to keep writing in order to continue informing, educating, and entertaining the public on behalf of cats and their well-being.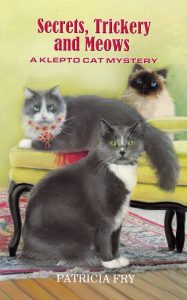 I announced a few months ago here that I am the recipient of two Awards of Excellence from the Cat Writers Association for two of my Klepto Cat Mysteries this year—FURever Bound and Secrets, Trickery, and Meows. This means that these two books earned a score of between 90 and 100 in the judging. All entries with a score of 90 or over are then pitted against each other in that category and are judged again by another independent judge. One of these books is then chosen to receive the coveted Muse Medallion. There were 11 entries in the Books: Fiction—Mystery category and Carole Nelson Douglas won for one of her Midnight Louie Café Noir Mysteries. In case you don't know this author, she has been writing mysteries since the 1980s—a tough competitor indeed.
To learn more about the Cat Writers Association, visit http://www.catwriters.com.