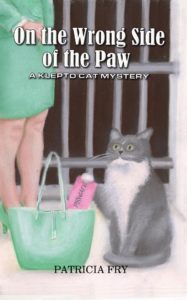 The print version of Book 35 of the Klepto Cat Mystery series, On the Wrong Side of the Paw, was published May 1. The Kindle version should be available just about any day. Watch for the announcement. In the meantime, here's the description:
The klepto cat digs up a long-held secret. While helping to manage a colony of homeless cats, Rags uncovers what could be clues to an old mystery. In this story, not only does Rags rescue a toddler from a precarious situation, he nearly loses his life saving a litter of kittens, he diagnosis another cat's ailment in time to get him the proper treatment, and he paws the culprit in a decades old crime.
Readers Reviews for recent Klepto Cat Mysteries.
"There hasn't been a book yet in this series that hasn't kept me on the edge of my seat."
"Rags's adventures are heart-stopping at times and heart-warming all the time."
"This is an extraordinary series."
"Mystery combined with a loving and supportive family provides a wonderful reading experience."
"These books are such a lovely place to visit with plenty of mystery in the cozy tradition."
In the meantime, I'm busy at work on Book 36—another story with many twists and turns and a lot of kitty-cat action. Even though I've been doing some traveling,  I'm the trustee for my mother's estate since she passed in late March, and I was involved in her care for many months, I've managed to continue bringing you six new stories each year and it appears that will be the case again this year.