This is an interesting question. Is your cat's toy box overflowing with bell balls, rubber balls, golf balls, wand toys, spongy toys, and crackly foil toys? At our house it's mostly stuffed toys. Sophie likes the furry toy mice with tails. She tosses them in the air and pounces on them, just like her momma must have taught her with real mice when they lived on the streets. She'll aggressively chase a wand toy. Lily likes a wand toy when someone wriggles it in front of her, but she won't go too far out of her way to chase it. She will chase and leap for a wad of paper when I throw it, though.
Lily loves her miniature stuffed toys. She must have 50 of them or more in all shapes and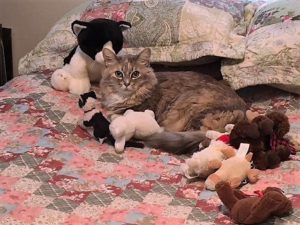 sizes. And that's not because she goes online and orders them, nor does she trudge to town and buy them. Oh no, it's all me. I bring them home from my travels—a baby bald eagle, a grizzly bear, and a moose from Alaska; an otter from a local sea center where we took the grandkids; an owl from the raptor center; a lion cub from a cat preserve; and several teddy bears. She drags them out daily and decorates the house with them, often bringing them to me as gifts. Sometimes she tries to drag around one of my large stuffed animals. Cute!
Last night she woke me up yowling. She wanted to let me know she was strategically placing some of her toys outside my bedroom door. Thanks a lot, Lily.