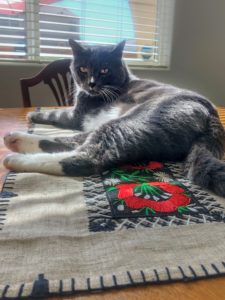 Smokey Report: My niece and her family continue to bond with Smokey. He's been adjusting well. Last week, they took home some things from his former home and boy was he happy-happy. When they brought Mama's beautiful oak table into their house, Smokey began rubbing on it. He jumped up on top of it and took a nap. The table is such a comfort to him that they've placed a pad on it for him to lay on. Oh yes, the spoiling of Smokey continues.
Writing Interrupted: I like to give you occasional updates as to what's happening in the Klepto Cat Mystery factory. I can tell you that my usual fast forward motion has been interrupted lately. I am working on Book 35, but it's slow going right now. I even have Book 36 started—I've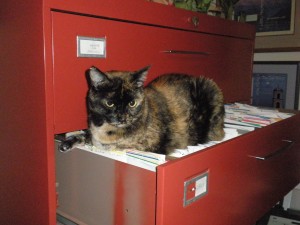 completed about 50 pages of the first draft. So what's the hold up—why isn't Book 35 ready to publish yet? I'm afraid it's me.
We said our last goodbyes to my mother who died last month at the age of 97 and I took on the duties as trustee of her estate. This new (and foreign) responsibility is proving to be time-consuming and the grief has sapped my energy. Just know that I am doing some writing almost every day and I will get the next book to you just as soon as I can.
Book 35 is "On the Wrong Side of the Paw" and it involves a cat colony, an old murder mystery, and plenty of kitty-cat action. Wait until you read about the spectacle Rags creates downtown when he rides shotgun with Gladys one day. Speaking of Gladys (that's Savannah's mother), she meets a guy…Oh, and Janet comes for a visit and Margaret (Aunt Maggie) gets way bent out of shape. I think you'll agree that the best part of the story is how Rags goes above and beyond to help save some at-risk cats and kittens. What a guy. I hope you find this story worth waiting for. Thank you for your patience.