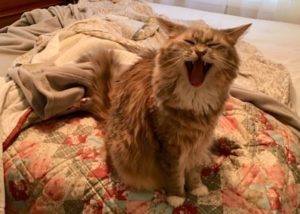 Yesterday I shared a happy-ending story about Smokey's sudden loss and his rescue. You may recall the article I wrote for Cat Fancy some years ago featuring the importance of choosing a godparent for your pets and some tips for doing so.
I was godparent for four cats once. The story is in my book, Catscapades, True Cat Tales. Briefly, my neighbor, walking partner, and friend, Johanna asked me one day out of the blue if I'd take charge of her cats should anything happen to her. She was the picture of health, so to have this conversation with her seemed silly. But I agreed. A few months later, Johanna was dead from a brain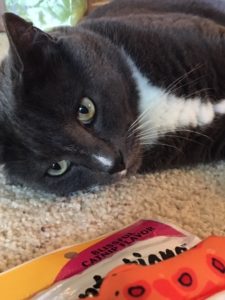 aneurysm and I was godparent to four beautiful cats. It happens.
Here are some things to think about for the future of your cat. And when you start thinking, you'll most likely find yourself imagining your beloved cats with certain people that you know. You'll realize that this friend allows her cats to go outside, so that wouldn't be the best scenario for your timid indoor kitty. Some of your family members have dogs that have never been around cats. No! Others might adore your cats or maybe just one of them, but they won't take them unless they're declawed—they think more of their furniture than the cat—or they just don't understand.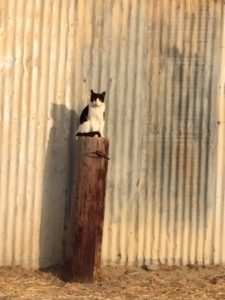 Someone who travels a lot probably isn't a good candidate to care for a terminally ill cat or one who loves company. A wily cat isn't the best companion for an elderly person who is wobbly on her feet. Yes, there are many things to consider when choosing a guardian for your pets.
Personality is a big consideration. One of my daughters loves a large and in charge cat like Smokey. She was actually in the running to take him. Our Lily and even Sophie are quiet and demure—probably not my daughter's cup of tea. A household with small children would be a big adjustment for a cat that is accustomed to a quiet home.
I would suggest that you spend a minute or two reading my article on godparenting and consider making plans for your cat this week.
http://www.2ndchance4pets.org/Cat%20Fancy%20Magazine%20Article%20November%202014.pdf