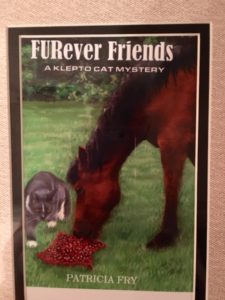 First, let me announce that both the print and Kindle versions of Book 34 of the Klepto Cat Mystery series, FURever Friends, are now available for purchase at Amazon.com. ENJOY!!!
Some of you reading this, no doubt, have had a cat with kidney disease (renal failure). It's fairly common in aging cats and can occur in young cats. Our Lily was diagnosed with kidney disease when she was around two or three years old. It seems like the symptoms began to appear before she was a year old. It took our veterinarians a while to consider that such a young cat could have kidney disease and to actually run a blood test.
Her symptoms were a lot of water-drinking and huge pee clumps in the litter box. Her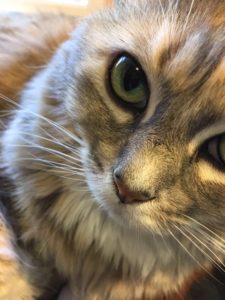 urine continues to be quite dilute. They thought she just had an extraordinarily large bladder—which she seems to have, as well. Thankfully for Lily (and for us), prescription food and plenty of water supplies have kept her healthy for almost 10 years. But she had a serious setback when she was around three or four. It took a lot of research on our part and experimentation and three veterinarians to get her going on the right track again. That was a frightening time. The best thing we did was consult with a holistic veterinarian in a conference call. He was extremely thorough and knowledgeable and he put her on a program that seemed to save her life.
We lost our Himalayan, Katy, to kidney disease. Hers was age-onset kidney failure.  Her symptoms appeared when she was around sixteen. We treated her at home (with our veterinarian's guidance) with subcutaneous fluids for a few years until her disease became acute. She died at the age of 18.
Symptoms of kidney disease include elevated thirst, decreased appetite, vomiting, weight loss, lethargy. Causes include aging, trauma, infection, and/or toxins. I read the other day that one bite of an Easter lily, for example, can cause kidney failure. The veterinarians can only guess that trauma at birth may have caused Lily's kidney disease. She also had a head injury when she was a kitten. I wonder if that could have contributed to the disease.
If your cat shows any signs of unusual thirst, lethargy, she's off her food, vomits more often than usual, get her to your veterinarian immediately and ask about the possibility of kidney disease.
Here's more information on the topic. https://www.cathealth.com/cat-health/urinary-system/1334-feline-chronic-kidney-disease?goal=0_3e73124b70-c8e158b353-587741849&mc_cid=c8e158b353&mc_eid=ad8616dba2