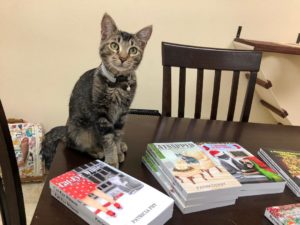 Name your favorite Klepto Cat Mystery and get a chance to win a FREE Klepto Cat Mystery of your choice. Lily will do the drawing on February 28!
Most fan don't seem to be able to name a favorite. "I love them all," they say. That's cool! However a few picks so far are "A Picture Purrfect Christmas" (yes, one of my faves, too) and "Mansion of Meows"
(remember that spooky, other-worldly story? Oooooh gives me the shivers just thinking about it). Oh yes, and one reader loved "Cattywampus Travels," where the whole family went on vacation to the east.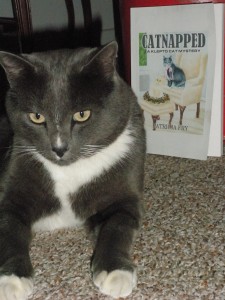 If you think back on the Klept Cat stories you'll remember something you especially enjoyed about each of them—a touching ending, a harrowing moment with a hugely surprising conclusion, a mystery that just kept you reading, a hilarious scene that makes you smile all day, a frightening scenario that kept you on the edge of your seat, an interesting circumstance that tickled your curiosity, a character you just love (or hate), an unusual situation that you didn't expect, a topic that's close to your heart (caring for feral cats, cat rescue, cats rescuing people, etc.). Yes, even I have trouble identifying my favorite book.
Okay, how about naming your top three faves! It's allowed. Good luck. Leave your choice here as a comment or send it to me at PLFry620@yahoo.com