February has a lot going on as far as cats are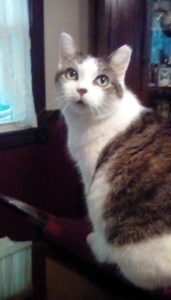 concerned—it's National Health Month, Responsible Pet Owners Month, National Prevent a Litter Month, and National Walk Your Pet Month.
So this would be a good month to put your cat in a harness and on a leash and walk her into your local veterinarian's office for a health checkup. If she hasn't been spayed—have it done now. If you're aware of a stray in your neighborhood that isn't being cared for, arrange to trap the cat yourself—you can get the use of
traps and instructions from your local humane society. Or involve a cat rescue organization. They're everywhere—in every county and many cities within those counties.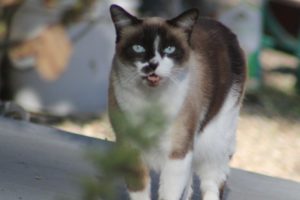 If you can't physically help, donate—cash, unused cat beds and bowls, blankets and towels, etc. to local rescue groups or individuals who work with neighborhood cats. Pick up cat trees and other cat items at yard sales. Watch your local give-and-take facebook page for free or inexpensive cat supplies you can donate. A friend bought a HUGE cat tree from Craig's List in great shape and had it delivered last week, all for $30. New it would have cost her at least twice that.
A friend recently celebrated her birthday on behalf of a local rescue organization. She asked that everyone who wanted to celebrate with her donate to the shelter. She collected $500 for the shelter.
These are some of my ideas and suggestions. I'll bet you can add to this list.