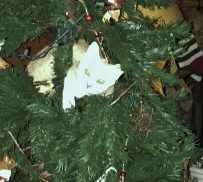 In recent weeks we've talked about the dangers, hazards, and upsets the holiday season brings to our cats. But I actually think cats enjoy certain aspects of the big holiday celebration in ways that we might not even notice.
What's your cat's favorite part of Christmas? Don't you get the idea that your cat thinks Christmas is for him? There are all the fabulously fun decorations, not to mention a tree brought into the house for his amazement and amusement. Our cats love wrapping day—the enticing crinkle of the paper, lengths of
ribbon dangling in front of them—what a delight!
Twinkling lights are a fascination for cats, as are candles. We opt for battery operated candles around here and still the cats are interested.
Some of the gifts get their attention—certainly jewelry as well as some of the toys we bring in to wrap for the small children.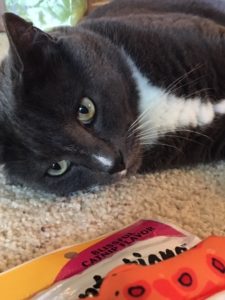 Our cats love the days we spend at home decorating and baking and wrapping. Of course, they think we're doing all of this simply to entertain them. I have to say having cats around during the holidays is a lot of fun.
I got a kick out of my mother's cat, Smokey—my model for the starring cat in my Klepto Cat Mysteries. My sister gave him a catnip toy and it must have been potent because he played like a wild jaguar tossing that thing and attacking it and rolling around on the floor with it. Then, he seemed to crash in some sort of catnip stupor.
That's when I was able to put the new bandana I'd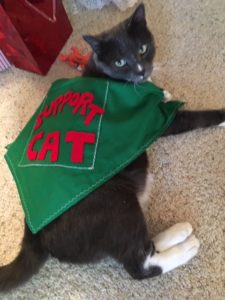 made on him. As my mother ages (she's 97 now), we consider Smokey her support cat, so I thought he should be recognized as such.
Our cats sure had a merry Christmas, how about yours?