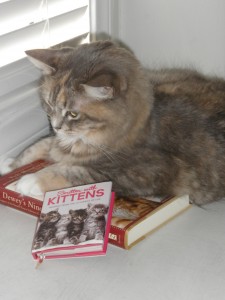 Now that you have your Christmas cards sent (right?), your holiday shopping finished, your Christmas dinner planned…how about curling up with a good book. You deserve it! Sure, I'd love it if you'd read some of my Klepto Cat Mysteries—I still recommend a first-time or repeat reading of my two holiday books—A Picture-Purrfect Christmas and A Christmas to Purr About.
But there are other cat-related books—LOTS of them. Here's one that caught my attention. Breaking Cat News—Cats Reporting News That Matters to Cats by Georgia Dunn. Sounds fun, doesn't it?
Would you like to know more about Jackson Galaxy, from "Cats From Hell?" This book is a few years old, but looks interesting. It's Cat Daddy; What the World's Most Incorrigible Cat Taught Me About Life, Love, and Coming Clean.
If you've never read any of veterinarian James Herriot's stories, I highly recommend them.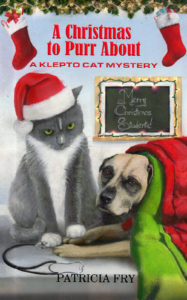 I read all of his books years ago. LOVED his stories and his story-telling style. Herriot practiced in a rural community in Scotland during the 50s. One of his most well-known books is All Creatures Great and Small. And have you read the charming book by veterinarian Dr. Louis J. Camuti titled, All My Patients Are Under the Bed? I enjoyed that read back in the eighties.
There are so many types of books related to cats—it's mind-boggling. Here are a few off the wall cat books, The Cats History of Western Art; 277 Secrets Your Cat Wants You to Know; and Why Cats Paint (another favorite of mine!!!). You can probably tell that I'm not the most sophisticated reader in town, but I do enjoy animal stories. How about you?