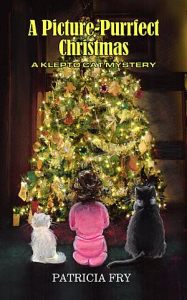 Yesterday I talked about my two Christmas stories. I thought you might like to read what others are saying about these books. Here are some of the 87 reviews posted at Amazon about A Picture Purrfect Christmas (Book 13).
"A heartwarming story of truth and miracles. While I have enjoyed reading all of the books in this series up to now, this is my clear favorite. Filled with adventure, drama, hope and family values, it is appropriate for all ages. Gotta love Rags!"
"One of, if not the best Christmas books that I have read in years. I highly recommend it for anyone to read. Excellent book explaining one of the reasons for celebrating the birth of our Lord Jesus Christ. Fantastic book showing one of the real meanings of Christmas."
"Marvelous Story. Just when I think I read the best of Patricia Fry the story gets better. I just loved this story, so much fear but with severely happy endings for so many people. May God bless this author."
"A Cat With Claws to Latch Onto Your Heart. Never give up hope; for God works in Mysterious ways. Once you have read one of the books in Klepto Cat Series you will be hooked. With multidimensional characters that are believable and plots that pull you in and keep you glued to the book until the last page. Great short read for all ages. Pick up a copy for yourself or someone who likes reading light Mysteries that contain some unusual characters, both two and four legged. My rating of Picture Purrfect Christmas is 5 out of 5 stars.
This is a simple, heartwarming, lovely series that I strongly recommend to any cozy lover who has a warm spot for cats."
"A Sweet and tender Story."
=======================================================
Here are some of the 30 comments for Book 22, A Christmas to Purr About
"A beautiful Christmas story. I have read all of the Klepto Cat books so far and enjoyed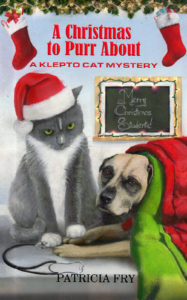 them all, but this was the best of the best!!!! You would have to read the others to really understand all the characters, but they are worth it. I cried so much I had to stop and dry my tears to finish it. Truly makes you believe in miracles!! Loved it."
"Awesome: This series is incredible. Rags is a great cat who is into everything. He is so lovable and fun to read about."
"Once again a fantastic book: Every time I start reading a new Klepto cat book or I start reading a new chapter in this series, I cannot stop until I am finished. This is an exciting story that gripped me from the beginning to the last page. There is a new character involved that promises new excitement for future stories. Patricia Fry is one of my top favorite authors and I am anxiously looking forward to her next book. Thank you for another good, enjoyable read."
"This is a series that warms the heart as it raises your heartbeat with suspense and danger. Ms. Fry brings today's social issues to the attention of readers without hitting them over the with them. With remarkable characters, both four legged and the human counterparts to draw you in and hold you captive till the last page. Thank you Ms. Fry for the journey of Klepto Cat's adventures and sharing them with myself and other readers. My rating of "A Christmas to Purr About – A Klepto Cat Mystery Book 22" is 5 out of 5 stars."
Available in print and formatted for your ereader at Amazon.com.