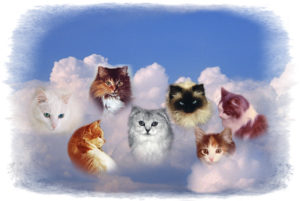 When we talk about rescuing a cat, we think of plucking feral cats from the streets and domesticating them. We adopt unwanted cats from shelters. We take in strays that are roaming free. We might save a lost cat after a disaster. I've done a lot of that. But I've also inadvertently rescued two purebred cats.
The first time I bought a purebred cat was in 1972. I wanted a Persian, so I went to a local breeder and chose the sweetest shaded silver Persian ever and named her Crystal. What a dear being. By the time Crystal was a year old or so, I knew that I'd probably actually rescued her. Anyone buying her for breeding or showing would certainly have put her down once they discovered Crystal's deadly secret.
When Crystal became ill, she wasn't diagnosed correctly—in fact none of the veterinarians she saw could tell us what the problem was. There was never an actual diagnosis, just a whole lot of treatment. Looking back, it's pretty clear that she either had feline leukemia or feline aids, which were not very well known in those days.
How much love would Crystal have received from someone who purchased her for breeding or showing purposes? How long would they have treated her? As it was, we had to let her go when she was only about six years old. If only we'd known—if only there'd been a vaccine by then. But we can't go back, we can only move forward.
Fast-forward to 1986. It was a pretty summer day when I walked into a pet store and fell in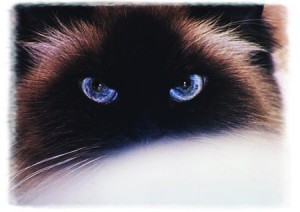 love with Himalayan kitten. Yes, I was guilty of supporting a kitten mill. Her papers showed she was born in Missouri and shipped to a California pet store. Needless to say, I bought her and named her Katrina (Katie).
When Katie was around a year old, she developed a serious infection in the uterus and it had to be removed. Yes, she had a hysterectomy. Now if she'd been purchased by another breeder or an individual who paid the fee because they wanted to start a breeding program, what would have happened to Katie? I'll tell you what did happen to Katie. She was absolutely adored. (I'm tearing up as I write this.) She was a beautiful creature and she had a beautiful life with me for 18 precious years.
I'm grateful for the time I had with those two sweet beings. But, as we know, there are equally lovely cats that have been abandoned, become lost, are neglected, and who need a home. My rule now is to rescue in the more traditional way—by supporting a shelter rather than a breeder. I just thought you'd find it interesting that there may be other ways to rescue a cat whether it starts out that way or not.