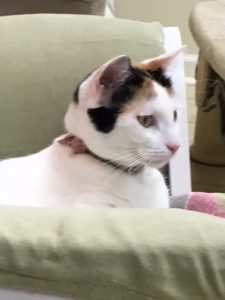 Yesterday I visited our county's first and only cat café. As you know, I've written about cat cafés and I visited one in Houston when I attended the Cat Writers Association conference in June. It's interesting how cat cafés in the US are all created pretty much with the same premise—to find forever homes for homeless cats—yet they each have their own charm. The Purrfect Cat Café in Camarillo, California is tucked between some major restaurants and other businesses in a strip mall. Since, in the US, you can't mix the cats with the refreshments in the same room, we were first greeted by a charming young man who invited us to partake of a beverage (coffee from machine or a canned soft drink), browse among a small array of cat items for sale (we bought tee-shirts), then we were ushered into the cat room. We paid $5 to see the cats ($10 for non-seniors).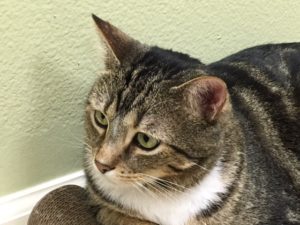 These photos are all of cats we met at the Purrfect Cat Café. All of them are up for adoption and, in the meantime, are loved, well-cared-for, and have quite a variety of interesting guests not to mention activities, toys, climbing apparatus, tunnels, and cozy beds. Those who want to be petted and cuddled will approach, those who want to be simply admired will pose out of reach, and those who wish for a little privacy will curl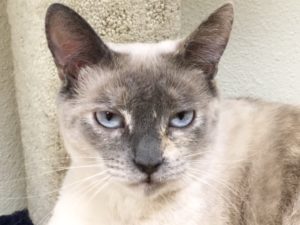 up out of sight until they're ready to be social. There are plenty of comfy perches for visitors, as well, and a table with an inviting array of adult coloring books and pencils if you want to see if your creative side is inspired by a room full of beautiful cats.
Visitors will also want to go back again and again because they introduce new cats quite often. Today five new kittens are coming in to join the other beauties.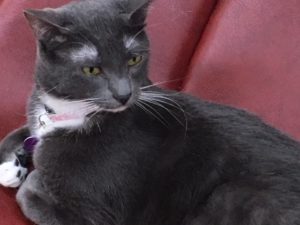 I'd like to hear your experiences visiting a cat café.
I can't help but share some additional cat news—I love this story: Omena, a small town in Michigan, has gone to the dogs (and cats and even chickens). Sweet Tart McKee (a cat) has just been elected mayor of the town with her first vice mayor being Diablo Shapiro, a dog. Penny Labrioloa was appointed special assistant for fowl issues, which is certainly appropriate since she's a chicken.
You may recall my writing about Stubbs, the feline mayor in Talkeetna, Alaska. He died last year at the age of 20.
I love small towns. I live in one and enjoy visiting others. In small towns, there's a sense of humor involving animals that you might not find in a larger city. For example, I attended a cow pie bingo fundraiser once. Yes, you won prizes if the wandering cow left a cow patty on your number.  Doesn't take much to gives us small town folks a giggle.