Yvonne at Socrates Book Review reviews Meowmoirs of a Klepto Cat this morning. Read her take on the book and compare it with yours. Spoiler alert: Not one reviewer or reader to date has given this book less than 5-stars. http://socratesbookreviews.blogspot.com/2018/07/review-meowmoirs-of-klepto-cat-by.html#more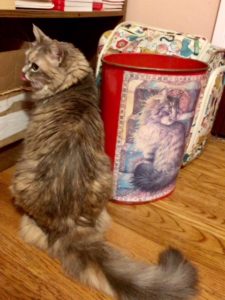 NEW BOOK Announcement
Thank you for coming along with me on my 2018 blog tour. As a special gift to you, I've published Book 30—Revenge at Its Felinest. So far only the print book is available. Watch for my announcement here and at my Klepto Cat Mystery facebook page for the launching of the Kindle version.
In Book 30, Rags answers the call to action with paw-some results.
Family and friends are stunned when Savannah and Rochelle disappear without a trace. Is this a random abduction or an act of revenge? While everyone scrambles to find answers, Rags stumbles upon possible clues to their whereabouts and he leads the charge to find them. At the same time, Iris searches for answers to an ancient curse that has disrupted the peace in their new home. What odd omen was left there and why are strangers threatening to bulldoze their property? Can Rags help untangle this eerie mystery and bring harmony to the neighborhood?
Does it sound interesting, intriguing, exciting? You bet it is. Be among the first to read this book. Order the print copy here: https://www.amazon.com/dp/0999472461/ref=sr_1_fkmr0_1?ie=UTF8&qid=1532177900&sr=8-1-fkmr0&keywords=revenge+at+it%27s+felinest