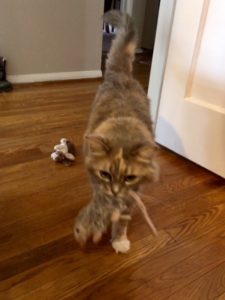 Miki's Hope is our blog stop today. Michele gave me an interesting assignment—to share how I come up with all of those story ideas. I mean, I publish an average of 6 cozy mysteries per year. There are 29 Klepto Cat Mysteries to date. And, as most of you know, each story features more than one mystery. Yes, there's a lot going on in the Klepto Cat Mysteries and today I'll reveal some of my secrets to writing them.
Here's another enticement to visit Michele's blog—we're giving away a copy of Meowmoirs of a Klepto Cat! Sign up and receive a copy for yourself or, if you already have your own copy, win one to give as a gift. http://www.mikishope.com 
Note: No animal was harmed in this photo shoot. This is Lily bringing me her baby possum toy.