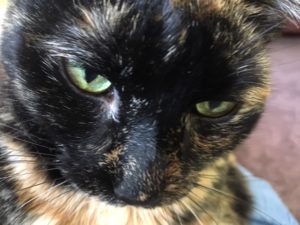 Have you ever been on a blog tour? I invite you to curl up with your favorite cat-friend and a cup of coffee and join me next week on a whirlwind adventure. I can guarantee there will be a lot of cats. Each day next week, I'll post the link to that day's stop on the tour. Please plan to visit. I think you'll enjoy the trip. Here's a schedule of events:
Tuesday Mudpie, the tortie at Melissa's Mochas, Mysteries, and Meows will post her interview with our Sophie, also a tortie. And Sophie reveals a secret. This, you don't want to miss. She also describes life with an author and a spoiled little sister named Lily.
Wednesday Mollie, at LeCatts interviews me. Among the questions I'll answer are, "Tell
me your favorite cat story," and "What do you see as your greatest accomplishment in the cat world." So you think you know everything there is to know about me? Maybe not.
Michele, at Miki's Hope is planning a giveaway Thursday. She'll offer the latest Klepto Cat Mystery, Meowmoirs of a Klepto Cat FREE. So be sure to visit and enter the contest. She'll also post my guest blog on how I come up with so many ideas that keep the Klepto Cat Mystery series fresh and intriguing. From what others tell me, this is a real mystery. Readers can't imagine how my imagination works. Let's see if I can unravel that mystery.
Friday, read about my path as an author and how I came to make the transition from a staunch nonfiction author to writing fun cozy mysteries. This post will appear at Babs Book Bistro.
Monday, Yvonne, at Socrates Book Reviews will post her review of Meowmoirs of a Klepto Cat
So that's the blog tour itinerary. I hope you will join us in the festivities and that you'll take the time to leave a comment at the blog stops. Bloggers appreciate comments. It gives us an idea as to who's visiting and which of our posts are resonating with our followers.
See you next week on the tour!