First, I invite you to take a look at the latest review for Meowmoirs of a Klepto Cat. Michelle, at Miki's Hope is the fourth reader to give this book a 5-star review. Yay! Read her review  here: http://www.mikishope.com/2018/06/book-review-meowmoirs-of-klepto-cat.html I wasn't sure how this very different addition to the series would do. Rags's fans are evidently enjoying it immensely.
Now to the Cat Show!
Have you ever been to one—a cat show, that is? Did you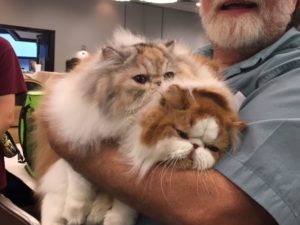 enter your cat in the competition or just go as a curious spectator? I've been a looky-loo at several cat shows. I even attended one in Los Angeles once where Morris was on display (well, one of three Morrises—you know, the cat that helped to advertise 9Lives Cat Food in the late '60s and '70s).
I fell in love with the Persian at a cat show, then later the Maine coon, Norwegian Forest Cat, Himalayan… I even thought about showing a Persian that I bought once. But that never happened.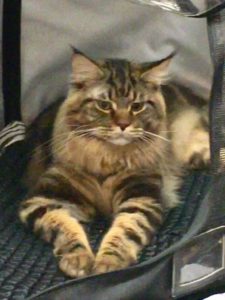 My favorite cat show was one that I attended with Cat Writers' Association members in White Plains, NY some years ago. I was signing books there. Aside from the beautiful pure-bred cats in all colors, sizes, and shapes (including my first sighting of a Savannah), they had a section of ordinary cats and kittens that were up for adoption. And every time a cat or kitten was adopted, a bell rang out and everyone cheered. Those were happy moments.
I must confess that I no longer have a desire to be a part of a cat show. There are certainly some beautiful show people who obviously love their cats and are excited to share them. With these people, you can tell that the cat is their number one priority in all of this. But I have observed others who seem to be there for one purpose—to receive some sort of personal gratification. They seem to treat their cat as an object of beauty and reward—interested primarily in what he or she can gain by showing it.
It's obvious that some cats are not happy in this environment. I've seen frightened cats,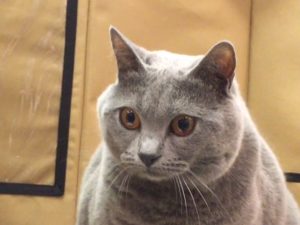 unhappy cats and also unhappy handlers. The breeder might have started out in this arena from a joyful place, but it appears that now they are somehow disgruntled—maybe just going through the motions of showing because it's expected. But the joy seems to be gone. And that can't be good for the cat.
It's wonderful that there are breeders working hard to improve some of the great cat breeds. Although I'm not a fan of those who create breeds from a mutant situation and I hate to see over-breeding—as all of us do.
Bottom line for me is—after my own experience of buying a Persian cat from a breeder and later buying a Himalayan from a pet store—it is more important to rescue cats that are already here and who need help, than to support a breeder. How do you feel about this?