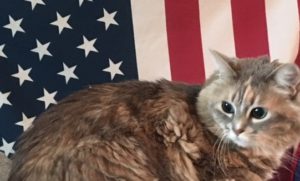 Today would be a good day to read one of my fascinating, intriguing, action-packed Klepto Cat Mysteries as you loll on the beach or curl up on the sofa with your favorite fur-friend. Start by loading Book One, Catnapped, onto your Kindle or other reading device, or pluck the hard copy from your bookshelf and finally read it or re-read it. If you're like most of Rags's fans and you're waiting for Book 29, THANK YOU! Meowmoirs of a Klepto Cat is coming soon—I'm predicting that it will be out between the 6th and 10th of June.
In the meantime, here are a few other books you might find interesting. I'm currently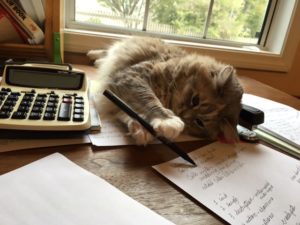 reading Fur Shui by Paula Brown. It's a fun and lively guide for improving the quality of life with your pet. According to Brown, "By understanding the simple principles in FUR SHUI, you'll immediately see that our pets have the power to improve our health, protect our homes, and commiserate with us on work, money, and love." I've just started the book, but I'm eager to learn how Lily and Sophie can help me to write more Klepto Cat Mysteries—and maybe help with the filing in my office.
I'm also currently reading Jeffne Telson's book, Cat Tails: Heartwarming Stories About the Cats and Kittens at ResQCats. Jeffne runs ResQCats in Santa Barbara, CA.
Have you read the book about Dewey, the famous library cat? Also in my library are Who's Who of Cats by John R.F. Breen, Chicken Soup for the Soul: Loving Our Cats, and Bonnie Pemberton's The Cat Master. I haven't read this one yet, but it appears to be a sort of take-off on the play Cats. It appears that the animals in this story speak—unlike my Klepto Cat Mystery series, which are human-driven with a lot of cat action and activity.
Let me know what you read today and if you have any cat or pet book recommendations.