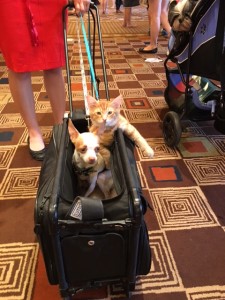 We all know people with both dogs and cats who actually get along. One of our neighbors has dogs, cats, and birds—oh yes, and fish in a pond in their backyard. Some cats actually establish strong friendships with other species of animal. I received one of those sweet books featuring stories of unlikely friends for Mothers day. This one shows a rabbit raising kittens, a cow feeding lambs, a dog with fox babies, a lioness with her antelope calf, a goat with a wolf puppy and more. So charming.
But sometimes you want to adopt a dog or a cat, and you don't because you're afraid it won't get along with the dog, cat, chinchilla, ferret, or bird you have at home. I must admit that I hesitate rescuing another kitten for fear of breaking Lily's heart. Silly, isn't it? I don't want her to feel displaced.
Jackson Galaxy just added a new post with advice for people who want to introduce a cat and a dog into the same home. You might find it useful.
https://www.usmagazine.com/celebrity-news/news/jackson-galaxys-advice-for-introducing-cats-and-dogs/ He says the first thing to remember is that a cat is a cat and a dog is a dog and you can't expect the same things from them. He recommends keeping them separate at first. And always providing personal space for the cat. Here's another link that I believe would be helpful: https://www.paws.org/library/cats/home-life/introducing-cat-to-dog/