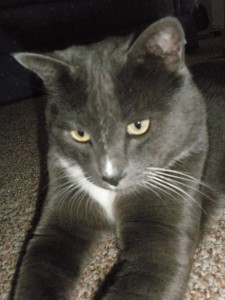 As you know, I pattern some of the cats in my Klepto Cat Mysteries after cats I've known. Rags, the star klepto cat, is a compilation of my mom's confident grey-and-white cat, Smokey, and our toy-toting kitty, Lily.
I've also brought cats into my stories who have traits and even appearances similar to other cats I've known and I sometimes use and embellish actual events I've witnessed with my cats over the years. In Catnapped (the first book in the Klepto Cat Mystery), the theme is based on a real experience occurring in one of my daughter's hometown. Cats were being picked up from quiet neighborhoods and being carried off. My daughter actually caught someone taking her cat from her front lawn and was able to stop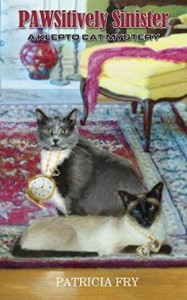 him. Just as in my story, residents reacted and set a couple of plans into motion, finally discovering who was taking the cats and why. While Catnapped is based on the story my daughter told me, my story is greatly and more interestingly embellished.
The Siamese cat I introduced in Book Nine, Mansion of Meows, and that I featured in a few subsequent books, is a compilation of the many Siamese beauties I've known, including my grandmother's series of apple-head Siamese cats.
The horse in the stories, Peaches, is reminiscent of a foal we raised to become quite a good competitor in local horse shows. Her name was also Peaches.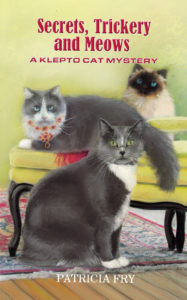 Dolly is a tabby—a sweet girl who has taken on a few of Rags's naughty traits. I used our Lily when creating Dolly's character. And I've definitely called on the precious personality of my Himalayan, Katy, to create a couple of the cats in my stories—specifically Buffy and also Layla.
Recently, I met another walker in the meadows where I walk most days. She was leading a dog on a leash and a cat was following along behind. I took pictures of the cat and ended up creating a character from her.
This week, I met up with the woman and her dog and cat again and told her that her cat had become a character in my Klepto Cat Mysteries. She was thrilled and ran out immediately to buy the book. Well, that's one way to make a sale. (She's the one wearing the necklace.)