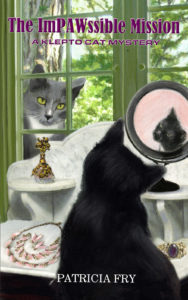 I'll be speaking informally tomorrow at BookEnds Bookstore and Curiosities in Meiners Oaks, California in the Ojai Valley. It's Independent Bookstore Day! And the owners of BookEnds, Marsha and Celeste, have invited local authors to talk about their books, their life as a writer, what inspires them, and so forth.
It should be a glorious, sunny day. So join me under the oaks TOMORROW, April 28 at 11 a.m.
On tap for tomorrow is Patricia Fry (that's me) at 11. I'll be talking about my fascinating journey with the Klepto Cat Mystery series. Of course, you'll be invited to ask your burning questions.
At noon, Helene Vachet shares information about her book, "Taormina's Historic Past and Continuing Story." At 2 Brian Galetto, teacher at Villanova, will speak on his book, "Not so Simple Observations on Poverty and People." And Liz Otterbein takes over at 4 with her book, "Unheard Voices—Journey of a Psychiatric Nurse."
BookEnds is housed in an old church at 110 South Pueblo (at the corner of El Roblar and Pueblo). It's worth the visit just to see the great replica of the Statue of Liberty out front, the AirStream that houses travel books and the many interesting used and new books as well as unique gift items placed throughout the church buildings.
Make a day of it. Come at 10 to take a tour. Hear me at 11. There will be a break at around 12:30. If you're available, I'll join you for lunch at one of our quaint Meiners Oaks eateries. Then we can sit in on Brian's and Liz's fascinating programs.
Let me know if you'll be there and I'll bring a gift for each of my blog followers. PLFry620@yahoo.com