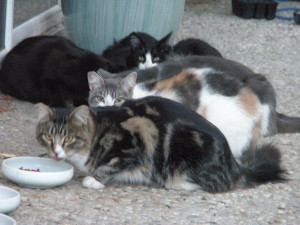 Too few cats? That's not generally a problem we hear about these days. Instead, we read articles and see news reports of neighborhoods and cities and especially shelters being overrun by unwanted cats. But evidently there is a cat shortage in London. Suddenly, more and more people are wanting cats of their own.
Some say this is because of the rising popularity of Larry and Palmerston, two mousing cats currently living on Downing Street. Larry is mouser for the Cabinet Office and Palmerston works in the Foreign Affairs offices. However, all is not calm and peaceful. The two cats have been fighting—even to the point that one of them needed veterinary care.
Anyway, it's speculated that these two cats have inspired a greater interest in cats in London, but there are few to be had. So a shelter in Yorkshire has been shipping cats to a shelter in London because of the sudden need. It's an unusual story with a lot of happy endings.
https://www.telegraph.co.uk/news/2018/02/12/cat-shortage-south-east-sees-unwanted-moggies-sent-yorkshire/
Read about Larry and Palmerton here: https://www.nytimes.com/2016/07/23/world/europe/larry-the-cat-palmerston-fight.html