First, an apology. A fourteen hour power outage prevented me from posting this in a more timely fashion. In Ojai, especially after a good rain, trees fall and that's what happened in our neighborhood yesterday afternoon. We got power back about an hour ago.
Second, an announcement. Michele at Miki's Hope has posted a review of Secrets, Trickery, and Meows. If you haven't already seen it on Amazon or Good Reads, check it out here at Michele's site: Yup, I got the hoped for reaction from Michele—she can't wait to read the rest of the story in Book 28, The ImPAWssible Mission. http://www.mikishope.com/2018/04/book-review-secrets-trickery-and-meows.html
Now for the Topic of the Day
What are some of the feeding mistakes we make with our cats? Here are a few:
We feed too much.
We feed only dry food. (Gosh that was convenient, though.)
Some people make their cat's food without knowledge of cat nutrition.
We sometimes don't provide enough water for our cats.
Here's a site designed to educate people on the best way to feed a cat.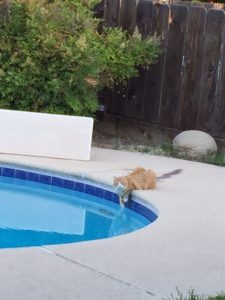 https://pets.webmd.com/cats/guide/mistakes-people-make-feeding-cats#1
Here's another site explaining why dry food, even prescription dry food, can be bad for your cat.
http://catinfo.org/docs/Feeding%20Your%20Cat%20-%204%20pages%2011-13.pdf