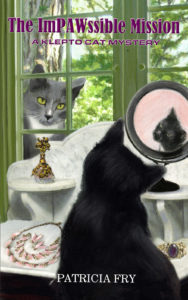 Today's the big day. You can finally order your copy of the latest Klepto Cat Mystery, The ImPAWssible Mission at Amazon. I'll provide the permanent link as soon as I have it—for now, the print and kindle books are separate—I've asked for amazon to link them, which will happen momentarily. So you're on your own to locate the kindle or print book at amazon. Just use keywords, Klepto Cat Mystery. Or type in the title. I'll release the correct link in tomorrow's blog post.
In The ImPAWssible Mission, the focus is still on the jewelry from the 70-year-old robbery. Who took it, who has it, who does it belong to? Follow Rags and his humans as they uncover long-held secrets in some of the most unexpected places and meet the people who harbor them. As the mystery unfolds, Rags continues to lead the charge to some startling discoveries and toward a most shocking conclusion.
Would love to hear your feedback once you've read this book. And I always appreciate you publishing your reviews at the book page at amazon.