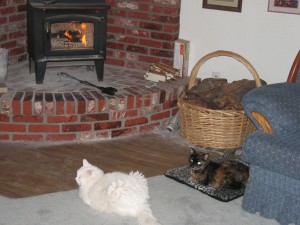 We all agree that animals are amazing. Well, to us they are. Although, what they do that's so amazing is rather second nature to them. Animals are much more aware of their surroundings than we are. Their natural instincts when it comes to nature and her seasons are many times more sensitive than ours—unless you have arthritis or bursitis, etc. Then changes in the barometer can certainly affect you.
As Dr. Nicholas Dodman, Professor of animal behavior at Tufts Cummings School of Veterinary Medicine says, "It's not that animals have a sixth sense, their senses are more acute than those of humans." Animals can pick up on pressure changes as well as scents indicating a pending storm, for example.
Yesterday we covered some of the activities and reactions we might see in animals when the weather is about to turn bad. Here are a few more: Some say that a cat will eat grass before a rain. Fish bite more before a rain, but I've also heard that a light rain on the water will bring fish to the surface. Frogs croak louder, birds fly closer to the ground, cows lie down to keep the spot dry, and dogs become restless when a rain storm is pending.
There's a saying that goes, "When sheep gather in huddles, tomorrow there will be puddles."
Here are a few more sites showing how cats and other animals predict the weather. https://www.quora.com/How-do-cats-predict-weather-esp-rain-to-a-reasonable-degree-of-accuracy
https://science.howstuffworks.com/nature/climate-weather/storms/10-ways-animals-supposedly-predict-the-weather8.htm