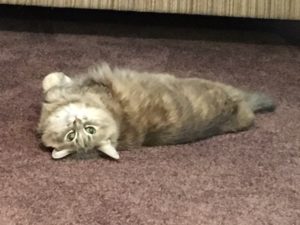 What does your cat do that makes you laugh out loud? If you're like me, you can't help but open videos promising cute cats or dogs or other animals doing funny things. No matter where you're watching these, you probably burst out laughing, even while waiting in the doctor's office or for an oil change.
I get a kick out of our cats on catnip. They are so silly. Lily becomes limp and lazy. She'll collapse on top of the cat tree and look around at you from upside down. Sophie will drop her reserve and play with more abandon.
We have fun with the cats when a box arrives on the porch. The girls have no interest in
what's inside the box; they just can't wait for us to empty it so they can explore the cardboard cave, shred the packing paper, climb on it, jump over it, play hide-and-seek around it. When it's a large box, I'll sometimes cut windows and doors in it and turn it upside down. Generally one cat will claim the inside and do her best to keep the other cat at bay. A wrestling match might create a new castle guard and the other cat becomes the outsider.
The girls often tear around the house like maniacs—Sophie in the lead during one go-around and chasing Lily the next time they appear.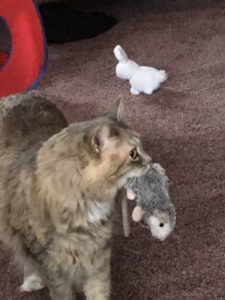 Lily still brings me her stuffed toys on a daily basis. Every couple of days I gather up her toys—usually a dozen or more of them—and return them to her toy box. Within hours, they're all spread out generally around the cats' water bowls, at the bedroom door, and around my feet in my office. Rarely does she drop her toys in the living room, but last night she brought me her stuffed kitty. Some toys are moved regularly. I find her little owl at the bedroom door in the morning, but after her breakfast, she brings it to me in my office. Some toys like the owl and the little kitty go back and forth. And she always announces herself as she brings a toy to me—whether it's in broad daylight or the middle of the night. Sure wish I knew why she did this. But I think it is just the sweetest gesture.
Since every cat has her own quirks and habits, let's celebrate them this Valentine's Day. What does your cat do that makes you laugh out loud?