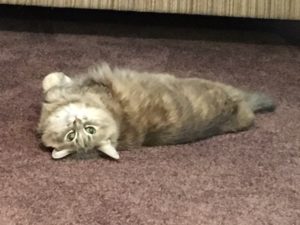 First, let me remind you that today is the last day you can download Book 23, A Christmas to Purr About FREE to your Kindle or other reading device. Order your copy at Amazon.com. Did you know that you can buy an Amazon gift card for those on your gift list? If you know someone who loves cats and enjoys light mysteries, give them a gift card and the link to the Klepto Cat Mystery series.
Saving Your Cat From a Fire Emergency
I've covered this topic in this blog before. But in light of what's been going on in California for over a week now, I want to bring it up again. Did you know that oxygen masks for people don't fit animals? So when a dog or a cat is overcome by smoke in the event of a fire, for example, human oxygen masks often fail in an attempt to resuscitate the animal. That's why many humane organizations and other animal activists throughout the world have worked to raise funds for special masks for large and small pets. I just saw a news clip on TV last night showing firemen resuscitating a small dog that had been overcome by smoke. The specially designed oxygen mask fit the dog's face and he was saved.
Here's a story out of Taylor, Pennsylvania. This fire department had received a donation of oxygen masks for animals the day before a particularly devastating house fire in that city occurred. Because of this, they were able to save all five cats they rescued.
To learn more about the need for oxygen masks for pets and how to participate in supplying them to your local fire department, go to: http://www.petoxygenmasks.org/
As you will see, they provide three different sizes and shapes of oxygen masks to include those for even the smallest of pets, such as birds, ferrets, rabbits, guinea pigs, and more.
Here's another site you can use to make sure your local firefighters have the equipment it takes to keep your pets safe in case of a fire: https://www.invisiblefence.com/why-invisible-fence/project-breathe
Here's an interesting site listing many fire departments that have received donations of oxygen masks. http://petoxygenmask.blogspot.com/2010/12/departments-that-received-pet-oxygen.html