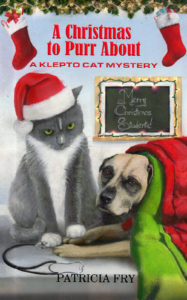 The Kindle version of A Christmas to Purr About is FREE until December 12. If you haven't read this heart-tugging book, this would be a good time to do so. Here's the description:
"The Ivey family and friends agree to serve the hungry during the holidays, but not without serious consequences that require a little feline and equine intervention. Detective Craig goes missing, Rags is accused of grand theft and malicious mischief, Savannah is harassed and nearly arrested, Michael has a surprise reunion to beat all reunions, and Peaches (yes the horse) facilitates a Christmas miracle. If you were touched by A Picture, Purrfect Christmas, you're going to adore this story of struggle, strife, and fear overcome in the most unusual and loving fashion."
https://www.amazon.com/Christmas-Purr-About-Klepto-Mystery-ebook/dp/B06XH4YR4P/ref=sr_1_5?s=books&ie=UTF8&qid=1512821987&sr=1-5&keywords=klepto+cat+mysteries
Also available in print for holiday giving.