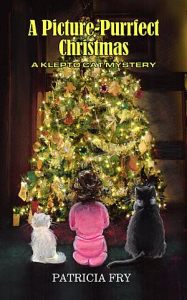 Have you read any good Christmas stories, lately? What is it about sappy stories and movies that draw us in around this time of year? It's a tradition in this family.
Have you noticed how many cozy mystery series with cats include a Christmas story or two? If you haven't read the two holiday-themed Klepto Cat Mystery stories, maybe this is the year to do so. Some fans read them again and again.
There's A Picture-PURRfect Christmas. A Spellbinding story of love, hope, and a child's innocent Christmas dreams. Of course Rags is right in the middle of the intense drama and he helps to facilitate the beautiful ending. A Picture PURRfect Christmas is one of those feel-good holiday stories you'll want to read again and again.
In A Christmas to Purr About, Rags serves up trouble like you've never seen before.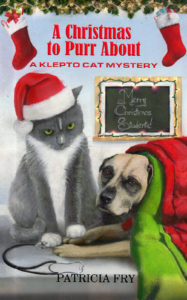 The Ivey family and friends agree to serve the hungry during the holidays, but not without serious consequences that require a little feline AND equine intervention. Talk about action and heart-string-tugging. In this story, Detective Craig goes missing, Rags is accused of grand theft and malicious mischief, Savannah is harassed and nearly arrested, Michael has a surprise reunion to beat all reunions, and Peaches (yes the horse) facilitates a Christmas miracle to save her ailing friend, Rags.
If you were touched by A Picture-PURRfect Christmas, you're going to adore this story of fear overcome in the most unusual and loving way.
Buy both Christmas books in print from me or show me proof that you purchased the print or Kindle versions from Amazon this year, and I'll send you a packet of my note cards. http://www.KleptoCatMystery.com