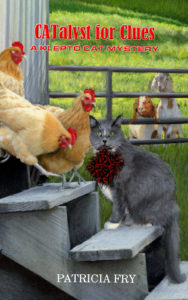 It's true. Now you can purchase all of the Klepto Cat Mysteries for your Kindle and in print AND 2 of them are also published as AudioBooks.
For your listening pleasure, we've had professional voice-over specialist Dena Dahilig record Book 1, Catnapped and Book 25, CATalyst for Clues. Order your copy of the AudioBooks from Amazon and listen to the stories as you run around town looking for a parking place at the mall during the holidays, to sooth yourself after a busy day, while wrapping gifts aand preparing the big meal, and while traveling cross country to visit loved ones.
I've recently rewritten CATNAPPED to match the quality of writing and storytelling in the later books of the Klepto Cat Mystery series (I've also rewritten Books 2 through 5). CATNAPPED has garnered 230 reviews to date. Here's the description:
"When Savannah Jordan agrees to help her aunt while she recovers from a broken foot,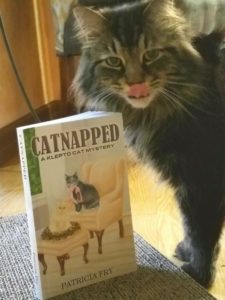 she doesn't expect to walk into a mystery, become part of a not-quite-legal surveillance team, be kidnapped by a deranged stranger and meet a steaming hot veterinarian. Beloved neighborhood cats are missing—the community can only guess at their fate—and Aunt Margaret's life is being threatened. Is it because she has a clue to the missing cats or is it something more sinister? If you like light mysteries with only a little terror, if you're infatuated by interesting cats and if you love a love story, you must read this book."
Order your copies here: https://www.amazon.com/Catnapped-Klepto-Cat-Mystery-Book-ebook/dp/B00DAHFS1G/ref=sr_1_2?ie=UTF8&qid=1511270216&sr=8-2&keywords=catnapped
(Book One–CATNAPPED would make a great holiday gift for that cat-loving friend, relative, co-worker, neighbor…Add Books 2 and 3 for an extra special gift.)
In Book 25, CATalyst for Clues, "Rags breaks all the rules and unravels a tantalizing mystery. When Savannah receives a ransom note, she teams up with Detective Craig Sledge to discover who's holding her sister, Brianna. But Rags, the Klepto Cat, becomes the catalyst in finding her. You'll delight at his covert strategy and intricate undercover work, as he misbehaves his way to another successful outcome."
https://www.amazon.com/CATalyst-Clues-Klepto-Mystery-Book-ebook/dp/B076294TR8/ref=sr_1_1?s=digital-text&ie=UTF8&qid=1511270281&sr=1-1&keywords=catalyst+for+clues
As a bonus, Book 26, A Perilous PURRsuit is now available at Amazon as a Kindle book and in print. This is the latest book and has only out for a week. https://www.amazon.com/Perilous-PURRsuit-Klepto-Mystery-Book-ebook/dp/B077DZTBKT/ref=sr_1_1?s=digital-text&ie=UTF8&qid=1511270850&sr=1-1&keywords=perilous+Purrsuit
Wishing you happy and cozy reading experience throughout the holidays.