Those of you who are reading my Klepto Cat Mysteries often have questions about my process. And I'm always happy to respond. Last week, my proofreader asked me if I started writing the series with a plan in mind. For example, did I plan from the beginning to bring in Michael's twin brother, Keith?
She was surprised when I told her, no. I had no idea that Keith existed until I started writing that episode. Heck, I didn't even know that Savannah would meet and marry a handsome veterinarian (Michael) until that fateful day when her aunt Margaret introduced the two of them in passing when they stopped in at the veterinary clinic to pick up a couple of kittens after they'd been neutered.
Other people who wander in and out of my stories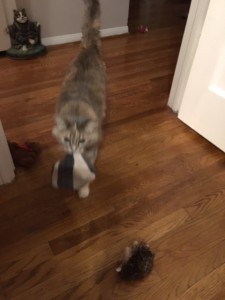 (some of them staying)—well, that's usually a surprise, too. I started with the premise of one story—one book—about cats being catnapped. Savannah and Aunt Maggie materialized as I started the writing and then Max and Michael appeared. In the second book, Craig Sledge came on stage and I liked his character, so he got to stay. And what better fit for him than Iris—so she became a good friend of Savannah's. The only constant that I planned from the beginning was Rags—a cross between my mother's gray-and-white part-ragdoll cat and Lily, my cat who brings me her toys and my slippers almost every morning. (That's where the klepto idea came from.) So I'm as surprised as my readers are to meet new characters.
Let me know if you have questions about how I approach the writing of this series.