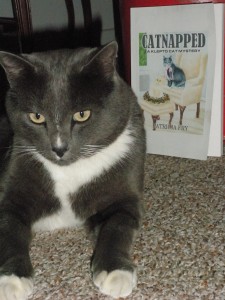 I often have people tell me they've read all of the Klepto Cat books and they want to go back and do it again. I wonder how many fans have actually re-read the entire series. For those of you who haven't kept up, I've written and produced 25 Klepto Cat Mysteries since that day in June of 2012 when I started writing the first one, Catnapped. Catnapped was published in June of 2013. Since then, I've averaged 6 books per year. Have I kept up that pace this year? I can assure you that I will.
Book 25, A CATalyst for Clues, was published in print and as an ebook late last month. Once the audio book is ready for publication, I'll introduce A CATalyst for Clues through promotional efforts. And soon to follow will be the book I'm working on now—A Perilous PURRsuit. You can expect to see that book on the market for your reading pleasure sometime next month—a nice holiday gift for you.
In the meantime, the two cats I patterned Rags after continue to inspire and enlighten me.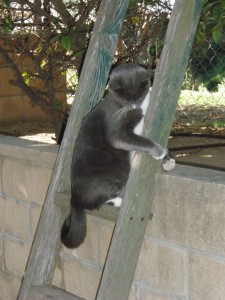 Smokey is my mother's cat. As you can see, Rags looks like Smokey and he shares some of Smokey's purrsonality. Smokey is an in-charge guy—always looking for a handout and a hand to pet him. He also likes a good ride on Mama's walker or anything else with wheels. Except the car. Unlike Rags, he's not crazy about a car ride. He's an adventuresome cat—always on the prowl for some excitement. And he has a lot of friends.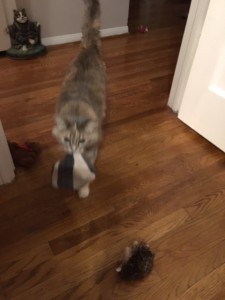 Lily is my cat. She inspired the klepto aspect of Rags because she carries things around in her mouth. I'm not sure if she's bringing me gifts, trying to replicate a hunting instinct, or redecorating the house to suit her. But she spends time each evening and morning taking her stuffed toys out of the cat toy box and dropping them here and there around the house. She has claimed some of my small stuffed bears and cats and she sometimes brings me my slippers.
The only thing Smokey carries into the house are birds, lizards, and the like. Gifts for my mother, I presume.
It's been interesting coming up with plots for the Klepto Cat Mysteries, but these two cats certainly provide inspiration.
For those of you who have read my stories, thank you. I've certainly enjoyed bringing them to you. Visit my Klepto Cat Mystery website. It's quite artistic. You'll find out more about me and each of the books, plus we've included a list of things you'll learn by reading these books. http://www.KleptoCatMysteries.com