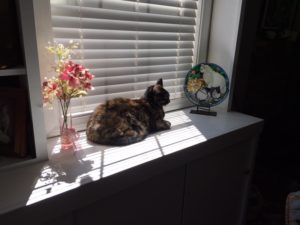 This day—August 28th—had been designated as National Holistic Pet Day. It's designed to bring awareness to pet owners about alternatives to, as well as accompaniments to, traditional veterinary care. According to experts, holistic treatments consider the pet's lifestyle, diet, and environment. This whole-body health approach can reduce a pet's need for medications, some of which have potentially serious side-effects.
We contacted a holistic veterinarian when our tabby Lily was struggling with symptoms of kidney failure. She'd quit eating and had become lethargic. She was only a year or so old then. Along with the treatment she was receiving from her traditional team of veterinarians, we put to practice
some of the more gentle suggestions from the holistic veterinarian, and we got Lily on the path to health. She's still being treated for poor kidney function through diet, and we do a blood panel fairly regularly, to make sure we're still on the right track with her. But you'd never know she'd been so ill or that she has a chronic health issue. She's a bright-eyed, bushy-tailed eleven-year-old now. And I dare say that without the addition of the holistic approach all those years ago, we may have lost her or she'd be still struggling with her health.
There are many sites with information about holistic veterinary care. If you're dealing with a tough health issue with your cat or dog, you might consider this as one of the options in her treatment. Lean more here: https://www.thehonestkitchen.com/blog/celebrate-national-holistic-pet-day