This is not a very uplifting topic, but we should be aware and informed about early cancer detection in our precious cats. Education can save lives and the life you save might be that of your beloved cat.
I've seen cancer in two cats over my lifetime as a cat-lady. Crystal was infected with Feline Lukemia when I bought her from a breeder. Little was known about the disease at the time and she was never actually diagnosed with it. But, looking back, I'm sure this is what she had. We treated Crystal endlessly without good results and without knowing why she was sick. There was no vaccine then and the veterinarians were not educated in this disease. I'm thrilled at the strides made in this area. A lot of cats have been saved and protected from this killer.
Years later, Winfield developed a cancer in his throat—it could have been oral squamous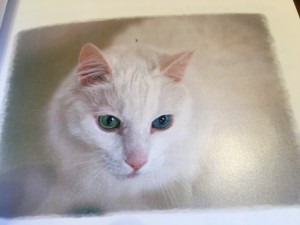 carcinoma—a cancer associated with vaccinations. You may notice that now veterinarians give your cat her vaccines in different spots on the body each time to help prevent this cancer from forming. One time the vaccine goes into the right shoulder area—the next time, in the left hip, etc.
Unfortunately, there is little known about cancer in cats—however, there are veterinarians who specialize. If your cat is thought to have cancer, you might consider consulting with an oncologist veterinarian.
Here's a site responding to questions about cancer in cats: http://pets.webmd.com/cats/guide/cancer-in-cats-types-symptoms-prevention-and-treatment#1
Here's another site that lists warning signs and other information you might find useful. http://www.petplace.com/article/cats/diseases-conditions-of-cats/features/feline-cancer-what-are-the-warning-signs
I think most of us know when to take the cat to the vet. Here are some of the warning signs of cancer and, certainly, other diseases and conditions:
Loss of appetite.
Unnatural discharge from any part of body.
Lump that increases in size.
Weight loss.
Difficulty breathing.
Stiffness or soreness.
A sore that doesn't heal.
Changes in bladder or bowel habits.
There's actually more cancer diagnosed in cats and that's probably because cats are living longer. But, despite the fact that cancer research in cats is lagging a bit, there's also more known about cancer in cats. If it's caught in the early stages, many cancers can be treated and cured. So do yourself and your cat a favor. Follow the links provided and become informed. The cat you save may be your own.