We're still in wait mode here—waiting for a new product to share. The universe has hijacked our plans. The announcement I hoped to make this month will not be forthcoming. Yes, I'm going to place the blame on the universe and maybe my over-enthusiastic nature. I keep having to learn again and again that the world doesn't turn on my time schedule. Some tasks take longer than I expect. In fact, this is probably true of most tasks.
I can tell you that you can order Book 23, Cattywampus Travels, in print and for your Kindle right now, right here: https://www.amazon.com/Cattywampus-Travels-Klepto-Cat-Mystery/dp/099853563X/ref=sr_1_fkmr0_1?ie=UTF8&qid=1495890430&sr=8-1-fkmr0&keywords=cattywampus+tra
Stay tuned for the big announcement—oh my have we been busy here in the offices. It should come mid-June or earlier.
In the meantime, I'm diligently working on Book 24—working title, "Cats in the Belfry."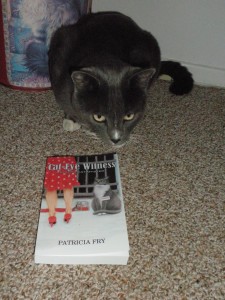 Since we've been coming out with a book on average every two months, you can probably expect to be reading this thriller—well, cozy thriller—sometime in late July or early August.
As you may know, there's more to writing a book than creating and fleshing out a storyline. Once I've written it to my satisfaction, I turn the manuscript over to a few beta-readers and my proofreader/editor. When I get it back—anywhere from one to three weeks later—I go over it another two-dozen or so times then give it to my print book format person and my ebook format person and they get it ready for publication. This can take another two or three weeks.
Of course, by this time we have a cover design—that can take anywhere from two weeks to a month or more, so I try to start early discussing the cover with the artist, so we have it by the time we go to press.
Before publication, I need to write a description of the story and design the back cover copy.
But the real work begins once a book is published. That's when the author must shift into high gear, put on a new hat, and start promoting the book. While the production of a book may take us around two months, promotion is ongoing for as long as you want that book to sell. And if there are any budding authors out there, I want you to know that this is true for any author and any book in any genre.