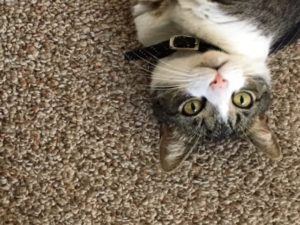 Occasionally I share resources here in case you want additional information, clarity on a cat issue, answers to a feline health problem, tips for changing annoying cat behavior, ideas for entertaining your cat, stories about cats, and so much more. Every week I find new material I think you'd enjoy. Did you know someone has composed music specific to cats? We're going to talk about that in a future blog.
Today, I want to tell you about newsletters you might want to subscribe to in order to better understand your cat.
There's the Mewsletter, which is primarily about cat health. Highly recommended as it features health care and veterinary tips: http://mewsletter.com
This Week In Cats promises everything you've ever wanted to know about cats. http://thisweekin.cat
http://www.catfaeries.com/newsletter.html focuses on good behavior and robust health for the modern housecat.
http://www.tuftscatnip.com/ Is a long-standing, respected newsletter on health and behavior news from veterinarians
Adventure Cats is a unique newsletter featuring cats who accompany their owners on adventures such as, travel, camping, climbing, kayaking. And you can send your cat story to be published in their newsletter, as well. http://www.adventurecats.org/newsletter