Most of you reading this blog have met Rags (aka Ragsdale), the starring cat in the Klepto Cat Mystery series. Did you know that the storybook Rags is patterned partly after my mother's cat, Smokey and partly after my little girl kitty, Lily? Rags has Smokey's confident personality, looks, and build. I've given Rags Lily's interest in carrying things around in her mouth. Combining the two and taking some creative license, I created Rags, the curious, clever, kleptomaniac cat who causes readers to bite their nails with concern for him, laugh out loud at his antics, cringe a little, and smile when reading the Klepto Cat Mysteries.
Today, I want to introduce you to the real Smokey.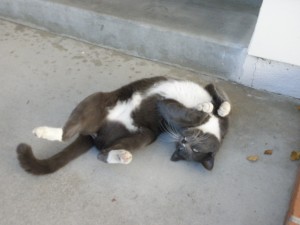 You can't tell it from his picture, but he's actually half Ragdoll. His purebred ragdoll mother, Angel, rejected the ragdoll male she was introduced to and found herself outside one chilly night in Idaho being courted by neighborhorhood suitor. The result was a litter of three mismatched kittens. Smokey was the only male and the only shorthair. One female was a ragdoll look-alike and the other a beautiful long-haired calico. The only ragdoll trait Smokey got was his way of sleeping—always all sprawled out.
Rags was destined to be my mother's lap cat. That was her plan and the plan of the family who chose him for her. When he wasn't in her lap, he would be lolling nearby in his bed, sitting quietly at her feet, or entertaining her. He would never go outside where danger lurks.
Smokey, however, had ideas of his own. The day he was hand-delivered to my mother in California by a family member, as a three-month-old kitten, he was determined to explore the great out-of-doors. He refused to comply with the house rules. He was happy to be in a loving home, but he was now large and in charge and he wanted to be an adventurer. The good news is, he's nearly 7 years old and he's still in one piece and healthy and, I must say, enjoying life.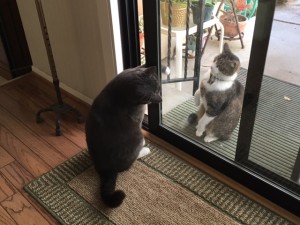 While he spends most of his time indoors, now (well, overnight, when it's raining, when the gardeners are there, when it's windy or when it's cold), he demands his outdoor recreation anytime the sun's out and the weather is pleasant. Along with his desire to be outside, he also has his own methods for entertaining my mother. His favorite one is to bring her gifts from the great outdoors—birds, lizards, once a baby gopher. He's probably puzzled by her reaction. But he sure seems happy when she joins him in chasing after his catch when he turns it loose in the house. What a thoughtful cat.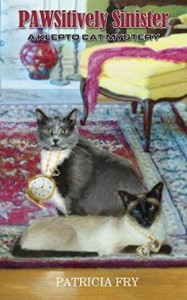 Smokey also enjoys company. He has his favorites who drop
by and that includes anyone who will give him treats. He likes riding around the house on Mama's walker, sprawling in front of her chair in a sunny spot each morning, and sparring with their daily visitor—the neighborhood moocher, Gibbs.
In the meantime, Mama gets a big kick out of Rags's (aka Smokey's) antics in my Klepto Cat Mystery stories and seeing the pictures of him on the covers. She likes talking about her cat, the storybook star. And I like listening to the true-life adventures of Smokey. After all these tales give me new ideas for the Klepto Cat books.