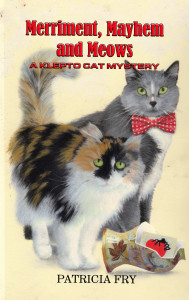 I'd like to officially announce the 21st book in the Klepto Cat Mystery Series. Merriment, Mayhem, and Meows.
In this story, Iris's new B&B opens and Rags's paw-picks an array of lovely cuddle cats for overnight guests to enjoy. But it isn't long before pandemonium sets in. What is sending some guests packing and others wanting more? Is the old inn haunted or is the mayhem caused by something more sinister? Rags attends his first book singing and leaves more than his paw-tograph behind. Expect loads of kitty-cat action in this book! And beware, Rags is more charming, amusing, and cunning than ever.
We've had two reviews for this book already: One reader says, "It's such a pleasure to read a well written, fun, and easy to read series." She says she could be friends with my cast of characters.
You know, I think that's one thing that draws me into my office day after day to write. I love my characters and want to spend time with them.
Another reviewer says my stories will make you laugh out loud and cry in the same story. Love it! Sometimes I find myself laughing as I write or blotting at a tear.
Order the print and/or Kindle version at amazon.com here:
https://www.amazon.com/Merriment-Mayhem-Meows-Klepto-Mystery/dp/0997519096/ref=sr_1_13?s=books&ie=UTF8&qid=1485434287&sr=1-13&keywords=klepto+cat+mysteries