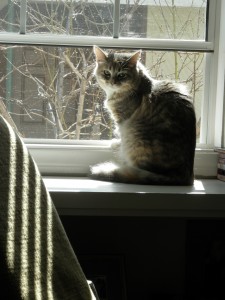 Do you miss your cats when you travel? I really like seeing cats out and about when I travel or simply lounging on a porch or sitting in a window. Sometimes you see a cat curled up in a basket at an antique store or bookstore or being led on a leash by a well-dressed gent along the boulevard. Say what? A cat on a leash? It's not as far-fetched as you might think.
Many more cities and counties than I realized across the US are putting cats in the same category as dogs—mandating that they must not be allowed to roam on streets, in parks and other public space, or on other person's property. It's true. There are leash laws for cats in Dallas and other cities in Texas; in Barre, Vermont; Akron, Ohio; Aurora, Colorado; Montgomery County, Maryland; New Orleans; St. Louis; Palm Beach, Florida; Henderson, Nevada and cities in South Carolina. Some other cities are considering such a mandate, including Kenai, Alaska.
In most instances, governing bodies haven't authorized special forces to enforce the regulation. It's implemented more through citizen complaints. As punishment, your cat will be impounded. The owner must pay to have the cat released, and there's typically an additional fine of around $500.
Is it working to everyone's satisfaction? The jury is still out on that. From what I can
gather so far, it doesn't appear that there is much enforcement going on. Do any of you have first-hand knowledge of the leash law for cats and whether or not it is making a difference?
Naturally, there are many who object to this ruling. They believe that cats are free spirits and should be allowed to roam and hunt.
In some areas of the world, cats are ordered contained primarily to protect bird species.
Would like to hear your take on this topic. Are you for or against the leash law for cats?
In my Klepto Cat Mystery stories, Rags, the main character, wears a nice harness attached to a matching leash when he's out and about with his people. Of course, there are other instances when he sneaks out and roams free being mischievous, but also sometimes heroic.
Speaking of the Klepto Cat Mysteries—the reviews are coming in strong and positive for Book 20, By Cat or By Crook. And there was a nice spike in sales at amazon.com yesterday—the day after Christmas. So that's how folks are spending their Amazon gift cards. Cool. Check out books and reviews here: http://amzn.to/1kAI8I2