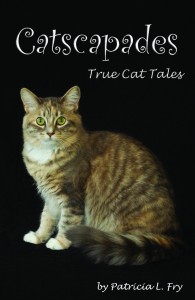 Excuse me if I bring up the holidays before you're ready to address them. But you know how important it is to begin thinking about those on your Christmas and to shop early. Just last night I had a conversation with someone who was appalled because her friends who shop late don't get the items they wanted because the stores have run out. "You'd think those stores would stock enough of what people want…blah…blah."
I said, "Shame on the people who shop last minute—who don't think ahead and plan ahead." We know the holidays are coming. We've known this for months. I don't feel sorry for last-minute shoppers who miss out. Do you?
If you have a friend, co-worker, relative, or neighbor who enjoys reading true cat stories, order an autographed copy of Catscapades, True Cat Tales from me here: http://www.matilijapress.com/catscapades.html
Inside this book, you'll find over forty true stories and vignettes featuring cats in a variety of loving and harrowing circumstances. You'll meet cats who are incredibly spiritual, deliciously humorous , and quite un-catlike.
Read about:
Gus, the reluctant babysitting cat.
The fearless kitten who was catnapped.
An obstinate calico who responds to mind-talk.
An engaging Himalayan who responds to a healing.
And then there's Sammy, the cat who changed a heart.
$10.00 for the ebook. $12.95 for the print book. 130 pages of feline fun, frivolity, and a tad of suspense.